Hey guys, it's that time of the year! If you liked Neofeud, please consider voting for it for 2017
"Indie of the Year" on IndieDB
!
If you haven't played it yet, you can find Neofeud on Itch.io
https://silverspook.itch.io/neofeud
or on Steam!
http://store.steampowered.com/app/673850/Neofeud/
Here is some background on the game:
"The art, writing, programming and music* of Neofeud was created by one person, Christian Kealoha Miller, also known as 'Silver Spook'. He also performed half of the voice acting. Christian is a Native Hawaiian, born and raised in Hawaii. Neofeud is a Dystopic Cyberpunk adventure game in the vein of Blade Runner, but with an overlay of Game of Thrones-like political intrigue, and 1366x768, hand-painted, stylized visuals.
The art, stories and gameplay of Neofeud are a reflection of my experiences as a STEM teacher for the underserved youth of Honolulu's inner city. Teaching robotics, programming, and sustainability is an often difficult, stressful, and even Kafka-esque endeavor -- being in one of the richest, most beautiful places on Earth, yet dealing with families with working parents, who are living out of a van, or sleeping on the street. It is hard trying to keep the kids out of gangs, off of drugs, and on a path towards better opportunities, such as the ones I had growing up in a slum area of paradise while going to an upscale private school. I made Neofeud to be a fun and engaging game in and of itself, but I also wanted the player to think about the society in which we live, as well as the one which we may be heading toward if nothing is done."
Here's a roundup of some of the articles this year on Neofeud: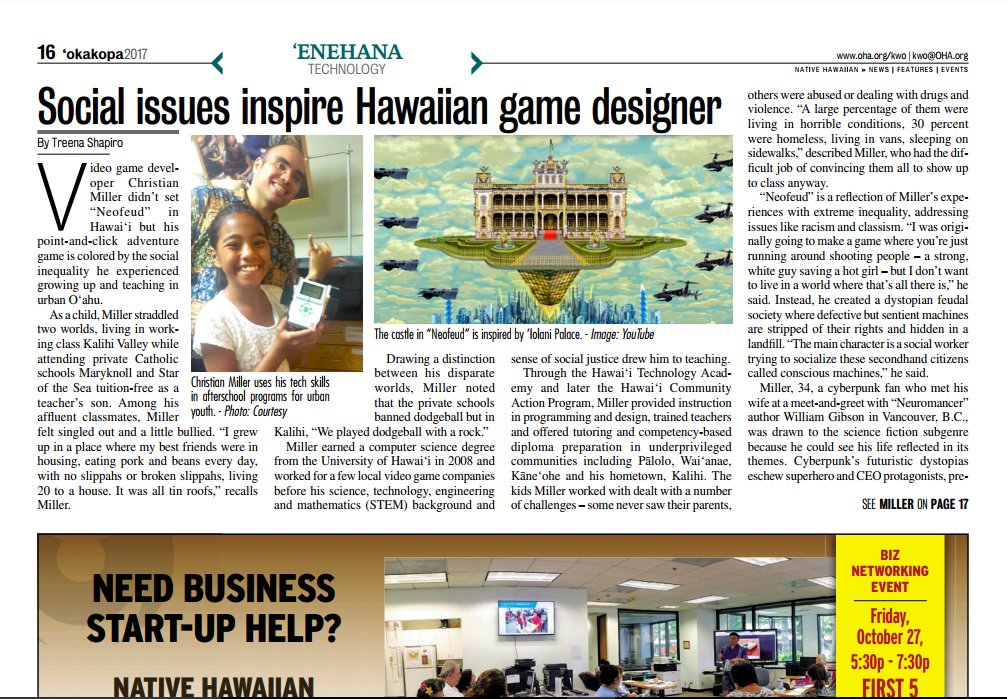 Read the rest of this article from Native Hawaiian Print Pubication, the
Ka Wai Ola.
"A Diamond Of Storytelling In The Scrap Pile... The characters of Neofeud are developed so much more than characters in nearly any other game I've recently played"
--Sprites And Dice
"'Cyberpunk-Fueled Noir.' Reminiscent of Beneath a Steel Sky and I Have No Mouth and I Must Scream... The art, gameplay, music and story come together to deliver a solid game."
--Indie Ranger
"An ambitious, atmospheric cyberpunk scenario and essentially the work of a single person (voice acting excluded). Oh, and it might also be one of the best adventure games I have played in a while... The world building is something else. It has a thickness, a density to it."
--IndieGames.com
"This spectacular and complex story will take at least 12 hours to play through, and the writing is excellent and enjoyable."
--3rd Strike
"Science fiction at its most raw and visceral...
Neofeud
doesn't shy away from uncomfortable subject matter. It gave me chills and made my stomach roll... It made me uncomfortable to listen to and watch…but that is the entire point. I can't turn a blind eye in the game, and I certainly can't turn a blind eye in real life."
--Steamshovelers
"An immersive cyberpunk adventure game... Echoes of H.R. Giger and William Gibson... [Christian Miller] knows what makes a quality game."
--Brandon C. Hovey
"I loved the quirky but fantastic hand-painted visuals, the gruff, cynical humour."
--Gaming Respawn
Here's one of my favorite Neofeud reviews from Steam user
Jungle.James
who really went deep into the larger ideas explored in Neofeud, and seems to have really 'got' what I was aiming for with this cautionary tale:
Neofeud is the most visionary game on Steam evocative of the creator's passion, sparing what Metal Gear Solid V: The Phantom Pain could have been. Never have I seen a game produced by such a small studio translate a vision so well.

It is a point and click adventure game wherein each line of dialogue is voice acted, and each scene has a MSPaint charm while expressing pure imagination, for example a chateau's ceiling where there is a painting of nearly infinite patterns, reflecting the royal's fascination with the godhead of technological transcendence.

In sum, Neofeud considers the following:

- UBI controlled slums filled with transgenic and outdated synthetics / androids deemed non-sentients and refuse.
- DRM cigarettes.
- Hypermodernity through a Baudrillardian simulation and simulacra of "consensus reality" interested rulers.
- The sythesis of the contemporary prison and military industrial complexes.
- Scepticism of the motives from those like Elon Musk who promote optimal adjustments to capitalism or late stage capitalism. Authenticity in social movements and how they're frequently co-opted; references to Public Enemy vs Kanye West.
- What dwells in the abyss that is the coming convergence of science, technology, and society.

If any of those topics interest you on a philosophical, economic, or social level and would like those topics paired with often times silly voice acting (for the better overall end results), please play Neofeud.

edit: A lot of soul went into this project, and it shows.
And here are a few more interviews I did surrounding the game:
A discussion on games, gaming and life with Christian Miller
( talking with Brandon C. Hovey)
Another interview with Erik Meyer of IndieGraze
And here is
one final review
by Fitz (Talos voice actor and a cool creative guy generally) on the also cool site of
CaptainD
(I am a Patreon of his!):
"The soundtrack -- created by Silver Spook himself -- consists of various flavors of electronica; an obvious choice, given the futuristic setting. And indeed it fits in perfectly. It's minimalistic when it needs to emphasize the dreariness of the slum world. Action sequences, in turn, are punctuated by a pounding beat -- whereas a distorted piano plano creates a watercolor-like backdrop to some of the game's most powerful moments of existential reverie. As mentioned already, the game is a full talkie. It's something that's expected of a modern game -- but the workload and the quality are actually impressive."
And here is Christian performing "Proto-J", a short story set in the world of Neofeud. The story is performed in the voice of the character whom Christian voice-acts in the game.
You can find more short stories in
The Neofeud Short Story Collection
Here are some of my other projects: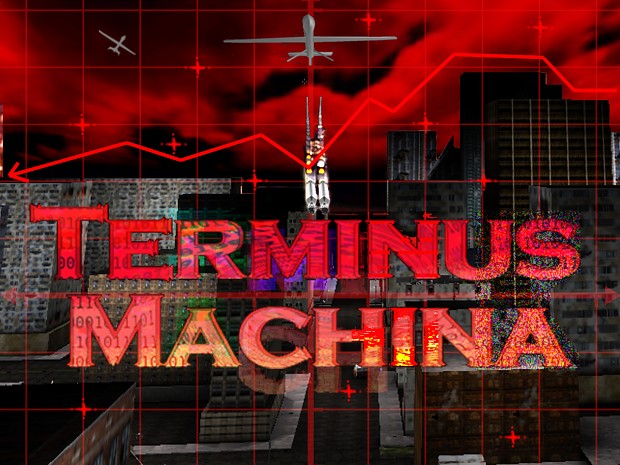 Terminus Machina: a Deus Ex total conversion
Dysmaton - a post-apocalyptic cyberpunk adventure
(in development)
And finally, here is a hangout with a bunch of the folks who helped make Neofeud possible, including my long-time patrons
Deborah Dunaway
and
Scott Smigiel
. Deborah also voice acted several characters in the game.
Chris R. Smith
and
Brandon C. Hovey
, two great voice talents are also present. The other major voice actors and actresses who couldn't make it were
Amayirot Akago
and Mrs. Silver Spook / Holly The Robot.
(*I created 43 out of the 45 songs of the Neofeud soundtrack, the other two were by Scott Smigiel. he created many more, but due to changes I made later in the game, I only ended using a couple -- my bad. However, the tracks themselves were great, and you should go and
check his stuff out!
)