At long last, Neofeud will be out on Steam this Tuesday, September 19!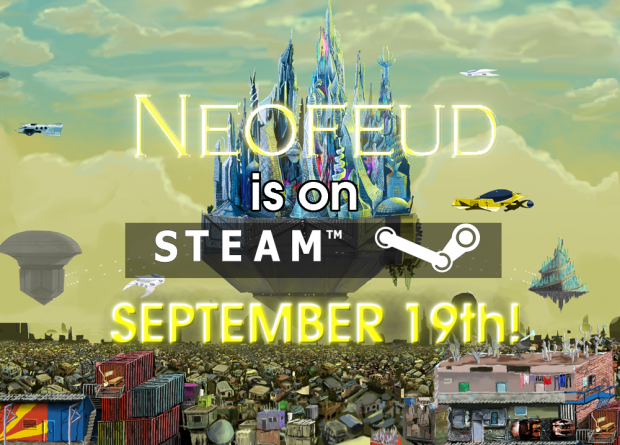 The game will be on sale during launch week at 20% off. The base price is $15, so you can get the game at a steal of just $12 for 15+ hours of gameplay, according to latest estimates! The Neofeud soundtrack, which includes 45 tracks and 2 1/2 hours of music will also be available for purchase on Steam.
Here's a recent interview I did with David Cameron of One Up Gaming, where we talk about Neofeud and the modern indie game scene:
The press on Neofeud has also been ramping up lately, and it has been featured recently on sites including
Hardcore Gamer
,
Gamers Global
, and
Gamasutra
.
Here's a roundup of the reviews for Neofeud thus far:
"An immersive cyberpunk adventure game... Echoes of H.R. Giger and William Gibson... [Christian Miller] knows what makes a quality game."
Brandon C. Hovey
"NeoFeud offers a dozen hours of gameplay that turns out to be a great time for any point & click and SF fan"
Cabinet De Chaologie
"The conspiracy runs deep and is quite massive in scope. Politics meet technology, philosophy meets madness. But even beyond the intrigue itself the world of Neofeud is quite a detailed and intriguing construct, with its own history and lore."
Indie Game News
"Taking a little more than 15-hours to finish, Neofeud showcases a deep tapestry of plot twists and turns, rich backstories, and action weaved throughout the point-and-click gameplay."
OpNoobs.com
If any reviewers are interested, I do still have Steam review keys- let me know!