A short clip from the Neofeud Let's Play that's particularly dystopian, and relevant to our current political climate. "We had to bulldoze the low-city and dump the residents into the landfill, which was unfortunate." In this episode of 'Let's Play: Neofeud', we visit the bejeweled "upper crust" of the Stratoplex, where the rich debate the best way to cut benefits for poor people. Trump Tower Circa 2027!
If you haven't already, Neofeud is
available for $15 on Itch.io!
If you can afford it and you want a 10-hour immersive cyberpunk adventure, go ahead and grab a copy! It will be a huge help with making this next Silver Spook Games project work financially as well. :)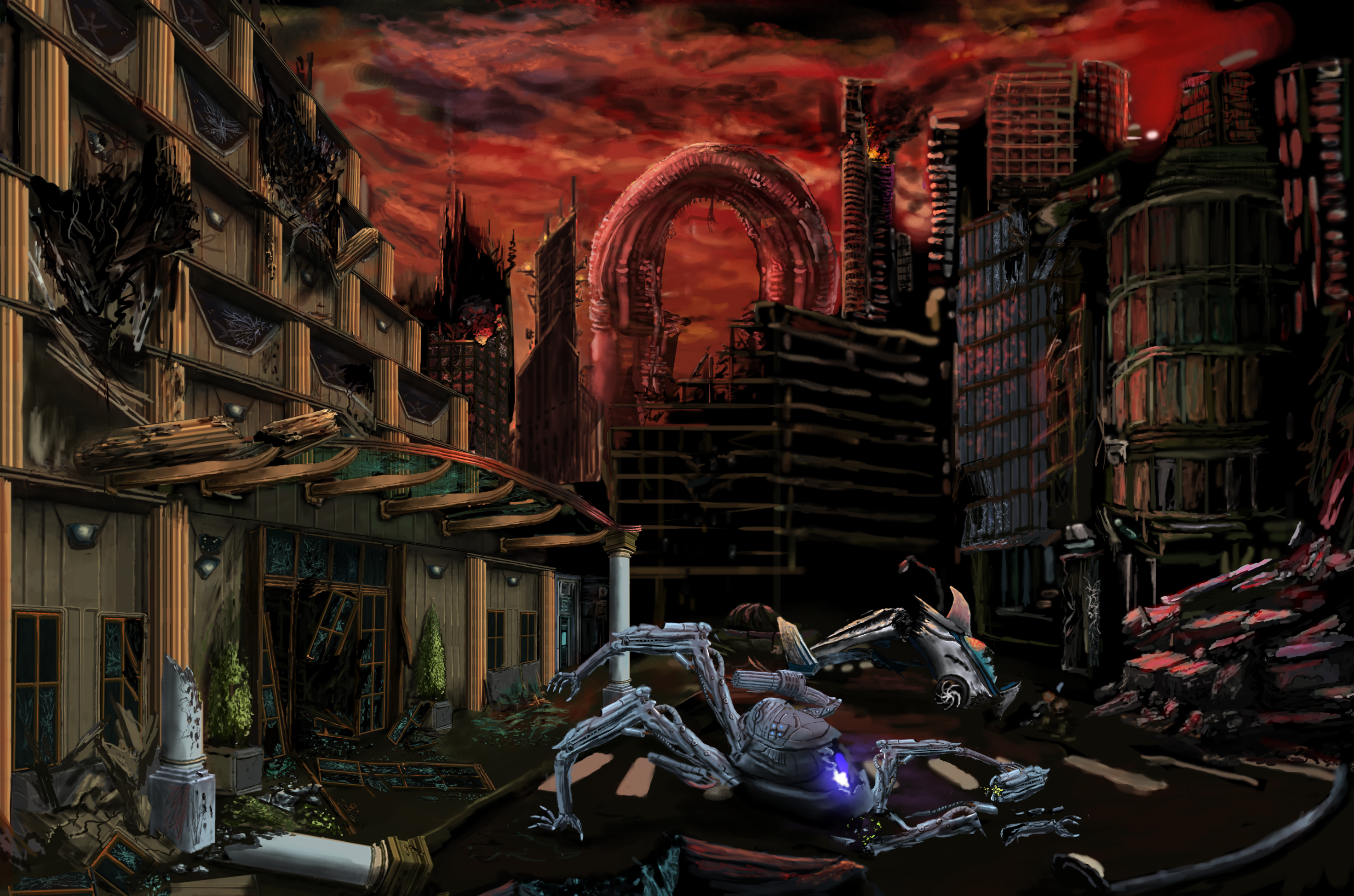 So I've been working on this most recent background for about a week now, and it's taken an incredible amount of time. I think the only background that's ever taken me longer was
The Neofeud Sky Palace
.
Worth it, though, I think!
So in addition to that, I've been working on hashing out the new story for the successor to Neofeud with some of the folks over at Chaos Nova (
http://www.chaosnova.co.uk/?page=home
) which is a group of writers that primarily write in the sci-fi genre. The plan is to put out a prototype of this next game as a test to see how well we work together and what sort of output we can manage, I'm hoping by the end of June. If the prototype pans out, it's likely that we'll work together on a full game. If not, I may end up just working solo again, and there are other potential projects on the table, although those are still pretty preliminary.
Neofeud at this point is at around 350 votes on Steam (but we can always use more- so get out on Steam and vote up now!
http://steamcommunity.com/sharedfiles/filedetails/?id=894789880
). I'm still hoping that it will squeeze by before the end of Greenlight but we'll see.
You can also vote for Neofeud on Good Old Games (GOG) here:
https://www.gog.com/wishlist/games/neofeud?pp=51af0418179317caa1e2d452f67017b44d428d8d
In addition, I've been doing a bunch of promotional video clips and livestreaming every Saturday to help out those who contributed to Neofeud (including all of my generous Patrons). Here's one of the most recent ones I made for Neofeud voice actor Brandon Hovey:
The next video I'm hoping to make is for Deborah Dunaway, another one of Neofeud's biggest supporters, Patreon patrons, and a longtime friend from the William Gibson Board.
So that's what's going on over here. Thanks again to all my patrons
@ssmigiel,
@bittersweetdb,
@Noirjyre,
and
@benjaminpenney
for all of your help and support!